LOSE THE LEASH Dog Training is owned and operated by Rob and Erin Jewell, we understand the importance of having well trained, balanced, and happy pets.
With over 15 years of experience handling and training domestic and exotic animals, Erin and Rob are determined to overcome any challenge that you have with your dog. Having worked with animals at the San Diego Zoo, the U.S. Navy's Marine Mammal Program, and domestic veterinary clinics, we have tons of experience.  We have owned and operated one of the most successful and fastest growing dog training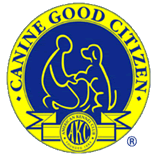 companies for years, and have succeeded in conquering thousands of dog's behavioral obstacles.
All dog ages, breeds and behavior problems are welcomed with a smile!
We are also Canine Good Citizen Evaluators for the American Kennel Club.  We offer this service at no additional charge to our clients (not including the AKC's $8 certificate fee).  Contact us today for more information, or go to: http://www.akc.org/events/cgc/
Schedule Your Free In-Home Demo:
(480)818-4899